Hi-Fi Audio Meets Pro-level DJ Performance
If you want high-fidelity sound, but demand pro-level DJ performance, the Audio-Technica AT-LP140XP should be at the top of your list. Along with a bevy of DJ-friendly features, this turntable boasts a near-bulletproof chassis, wall-shaking bass performance, and a super-responsive direct-drive motor. A height-adjustable S-shaped tonearm ensures balanced operation, while a mass-damped, die-cast aluminum platter minimizes unwanted ringing and resonance. An AT-HS6 universal headshell, AT-XP3 DJ cartridge, and 0.6-mil conical stylus extract every sonic detail from your vinyl. And essential features like a stroboscopic platter, forward and reverse operation, variable pitch control, and a pop-up stylus target light make the AT-LP140XP a top choice for performing DJs.
Built for high-fidelity sound
First and foremost, the AT-LP140XP is built for high-fidelity sound. Its direct-drive, high-torque servo motor includes speed stabilization and an adjustable dynamic anti-skate control to ensure consistent playback. Its durable die-cast platter is mass-damped to lessen ringing and unwanted vibrations, while reducing low-frequency feedback coloration. What's more, an AT-HS6 universal 1/2"-mount headshell and an AT-XP3 DJ cartridge with a 0.6-mil conical bonded stylus unleash truckloads of brutal bass and aggressive mids. We're blown away by the AT-LP140XP — its sound far outperforms its price tag.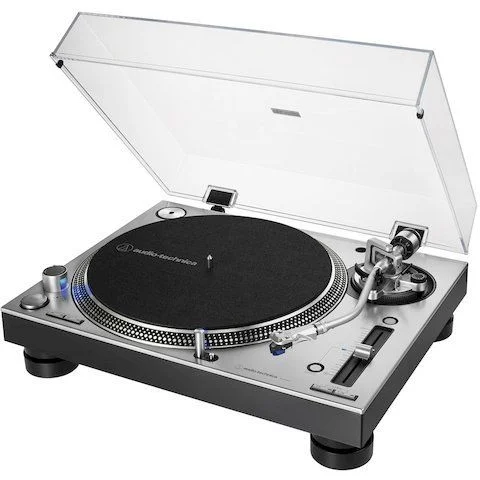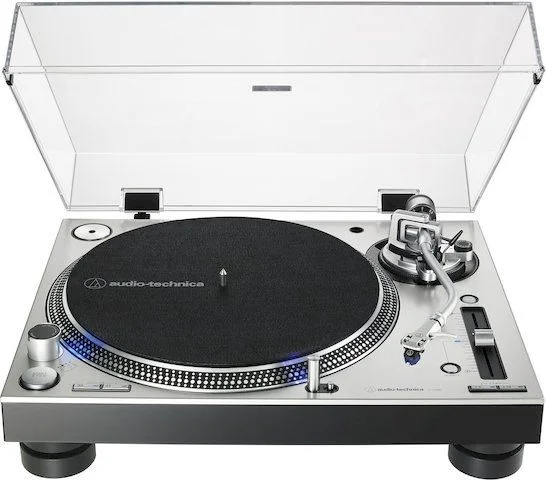 Jam-packed with DJ-friendly features
The Audio-Technica AT-LP140XP was made-to-measure for DJs. A direct-drive, high-torque servo motor supplies ultra-responsive starts when you hit the Start/Stop button. A stroboscopic platter makes dialing in the turntable's rotational speed effortless. Forward and reverse operation offer new possibilities for creative performance. Variable pitch control with a quartz speed lock makes beat-matching dead simple. And a pop-up stylus target light makes cueing in low light a breeze. You also get selectable 33/45/78 RPM speeds and a balanced S-shaped tonearm with a hydraulically damped lift control, height adjustment, and lockable rest.
Audio-Technica AT-LP140XP Turntable Features:
Direct-drive, high-torque servo motor supplies ultra-responsive starts when you hit the Start/Stop button

S-shaped tonearm with a hydraulically damped lift control, height adjustment, and lockable rest ensures balanced operation

Speed stabilization and an adjustable dynamic anti-skate control ensure consistent playback

Durable die-cast platter is mass-damped to lessen ringing, unwanted vibrations, and low-frequency coloration

AT-HS6 universal 1/2"-mount headshell, AT-XP3 DJ cartridge, and 0.6-mil conical bonded stylus unleash brutal bass and aggressive mids

Stroboscopic platter makes dialing in the turntable's rotational speed effortless

Forward and reverse operation offer new possibilities for creative performance

Variable pitch control with a quartz speed lock makes beat-matching dead simple

Pop-up stylus target light makes cueing in low light a breeze

33/45/78 RPM speeds for maximum compatibility

Includes a detachable RCA output cable, power cable, 45 RPM adapter, counterweight, felt mat, and removable hinged dust cover